Main usage
Create an appointment for tomorrow from the appointment screen. (If you share the schedule on SNS with the screenshot button, the feasibility of the schedule will increase)
It is not actually on schedule, You will flexibly update the schedule according to the actual schedule.
At the end of the day, look back at the total screen and transition screen, and write a review in your diary to see if the day is in line with your goals.
Copy today's appointment and improve it a little so that tomorrow will be a little better than today.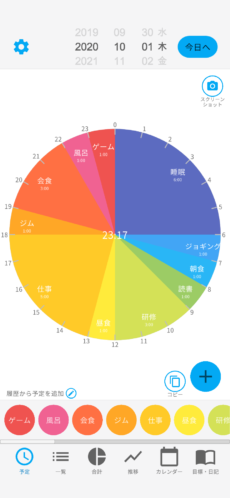 Change date
You can change the date in two ways.
Change with the crawler at the top of the screen
Swipe left or right near the center of the screen.
Add appointment
You can add a new appointment by clicking the + mark at the bottom right of the screen.
If you want to use the same appointment on different days
・ Press copy
・ On the calendar screen that appears on the next screen, tap the date you want to have the same schedule as the copied content (s)
・ Press save
Delete history
If you accidentally add an appointment, click the pen mark 🖋 next to "Add appointment from history" at the bottom left of the screen to display the history deletion screen.
Save pie chart image
With the screenshot button, you can save the pie chart image on your smartphone and share it on SNS and LINE.
(It is really recommended because sharing the schedule will dramatically increase the feasibility of the schedule.)
About the menu
・Schedule: Add a schedule with the "+" button and display the schedule in a pie chart for 24 hours.
・ List: You can check the schedule of the day in a list.
・Total: The schedule for the day is totaled and displayed for each schedule name.
・Transition: The total for each schedule name is displayed in a graph by day.
・ Goal / Diary: You can register goals and diary.
Add appointment from history
The appointment name and color are displayed as a set as a history.
Push Notification
To receive reminders with push notifications, set "Notifications on" on the iPhone / Android settings screen as shown below.
Select the timing you want to be notified in "Notification Timing" in the setting screen in the app.
For iPhone
iPhone Settings> Notifications> Daily Planner
・ Turn on "Allow notifications"
・ For "Lock screen", "Notification center" and "Banner"
・check mark
・Turn on "Sound" and "Badge"
For Android
Settings (main unit)> Apps and notifications> Daily Planner> Notifications ON